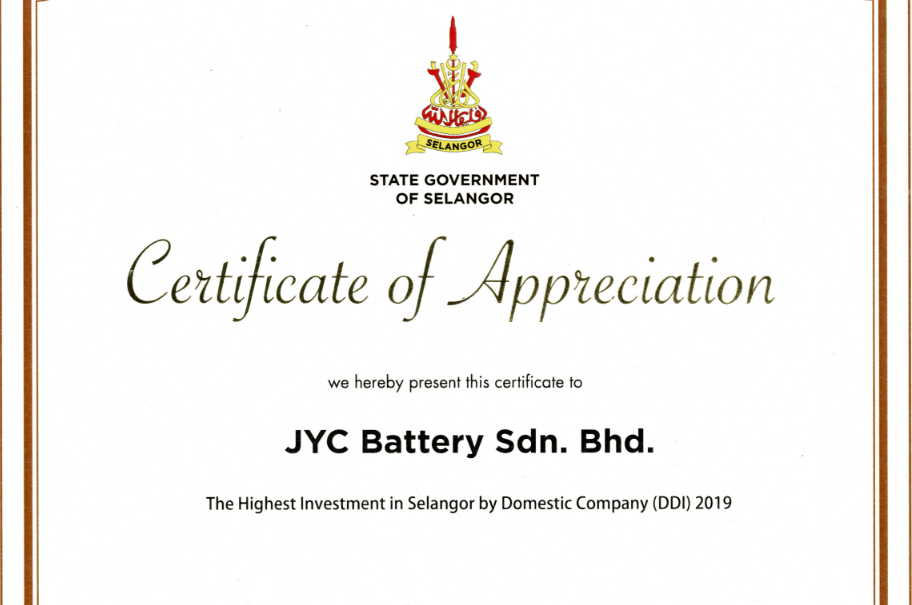 JYC Battery, since its establishment, has been committed to innovation and research and development of lead-acid batteries, providing customers with various energy solutions. We are delighted to announce that our Malaysia factory has been recognized as the Highest Investment in Selangor by Domestic Company (DDl) 2019 by the government, which is a testament to our long-standing efforts and contributions.
The government's recognition of the Highest Investment in Selangor is based on a set of criteria and indicators, including contributions to economic development, technological innovation, environmental protection, and employee welfare, among others. Our factory has demonstrated exceptional performance in all of these aspects, earning us this prestigious honor.
As the Highest Investment in Selangor, we have been dedicated to establishing strong partnerships with the local community and making positive contributions to the local economy. Our factory not only provides significant employment opportunities but also actively promotes technology and skills transfer. We prioritize employee training and development and offer a favorable working environment and benefits to attract and retain top talent.
In terms of technological innovation, we have been at the forefront of technology, actively investing in advanced production equipment and technology, and continuously improving production efficiency and product quality. Drive technological innovation and strive to apply the latest technology in our manufacturing process.
The honor of being recognized as the Highest Investment in Selangor is a testament to the hard work and dedication of our entire team. We will continue to uphold the values of innovation, excellence, and sustainable development, providing high-quality products and services to local communities and global customers.
We sincerely appreciate the government's recognition and pledge to continue our efforts in driving economic growth, fostering cooperative development, and making greater contributions to society and the environment.